Workshops & training
We offer educational opportunities to any Coloradan who is invested in equity for people with disabilities. We can teach you how to advocate and effect change on multiple levels – from problems in your local community to advocating for a specific person or yourself – using actionable steps to accomplish your goals.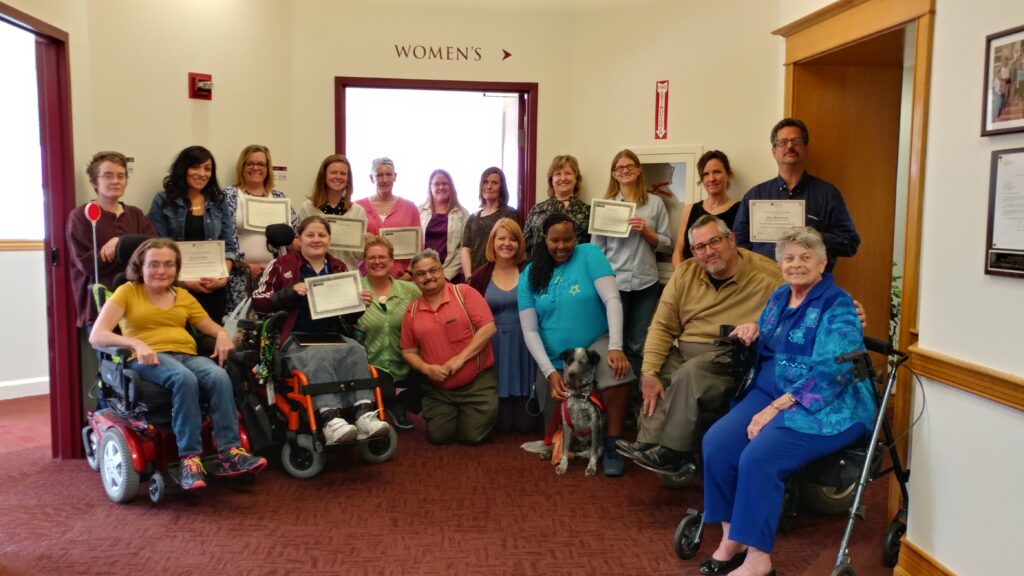 Our opportunities are given on a rolling basis, with many held online and most free of charge. We give workshops on topics like…
How to advocate for change in Colorado state law and policy
Tools and techniques to advocate for an individual
Using social media to advocate for change
How to tell your story for advocacy purposes
Intersectionality and inclusivity in your advocacy efforts
Navigating Colorado's Medicaid programs
When we host workshops and trainings, we list them below, on our calendar, and on Facebook – but the fastest way to learn about our trainings is to become an official CCDC community member. When you become a member (for free!), we'll send a heads-up about these opportunities right to your inbox!
And while you're here, check out our educational videos and resources on our YouTube channel! Opportunities for youth
This unique, action-oriented programming runs in cycles throughout the year. Each cycle highlights different skills, foundational knowledge, and real-world experiences; potential focal points include:

Advocacy, including campaign planning

Civic engagement, including legislative activity

Community organizing

History of disability rights

Communication skills to articulate power dynamics
Though participants are not obligated to continue engaging with CCDC when a YELD cycle ends, we hope to build sustained relationships with them to encourage ongoing growth.
Established in 2022, our Young Emerging Leaders for Disability Power program (YELD) is growing the next generation of disability rights leaders. Youth voices are at the heart of this program. We seek to elevate their perspectives and make change in areas that are central to their lives.
YELD is open to any teenager in Colorado who is passionate about creating equity for people with disabilities, though the application/selection process is competitive.
When YELD is accepting applications for participants, you'lll find that information here.
Please visit this page regularly!